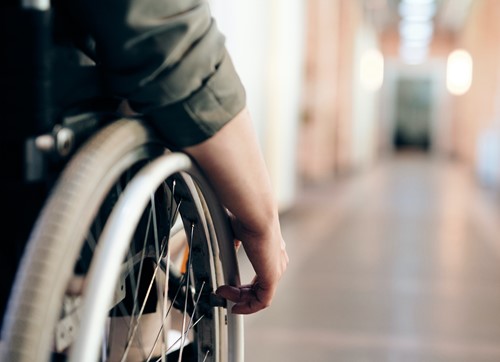 Photo by Marcus Aurelius via Pexels
Approximately 61 million adult Americans have some form of a disability, according to the CDC. That figure equals one out of every four of our community members. Add the fact that the U.S. Census indicates the country is headed for a "gray tsunami" with upwards of 73 million people entering retirement age. It stands to reason accessible living spaces will be in increased demand.
That's why new construction home builders would be wise to consider modifying bathrooms to ensure accessibility for aging community members and those with disabilities. Whether prospective homeowners require these enhancements now or in the future, wheelchair accessible showers are also beautifully spacious. These are top things to consider when designing a wheelchair accessible shower.
Key Design Elements of an Accessible Shower
Spaciousness and room to move about freely are top considerations when creating a wheelchair-friendly bathroom. Blueprints for the new construction home may consider making this bathroom the square-footage equivalent of a bedroom or home office. This facet tends to make such a bathroom luxurious. Along with accessories such as seats and specialized gadgets, these are ways to improve shower accessibility.
Curbless Showers: Eliminating prefabricated shower installs or tile versions with lips is an essential safety element. They present an unnecessary challenge for people using wheelchairs. They are also a proven safety risk for people with walkers. Curbless showers simply employ waterproof flooring with a grade that directs the liquid to a drain. Not only are these among the best shower options, but they also make bathrooms appear even more spacious.
Non-Slip Surfaces: If you ever went to a public school that used walk-through showers after gym class, you probably remember someone slipping and falling on the tile floor. Although tile can be a reasonable flooring material in a wheelchair accessible shower, it must also possess non-slip qualities. Some routinely used floor materials to consider include non-slips such as rubber, marble mosaics, feathered concrete, and seamless vinyl, among others. A long as the sub-floor can hold up to any potential water penetrations, the design can succeed.
Interior Shower Space: In many wheelchair accessible layouts, the shower tends to be the centerpiece. That's largely because people may need to bring their wheelchair or walker into the space. Designs should account for at least a 36-inch entry and enough square footage to turn around. Wheelchair turnaround requirements typically call for a minimum of 60 inches. However, more space is advisable.
Grab Bars: A minimum of two to three 1.25 to 1.5 inch-thick grab bars are generally required for a wheelchair- or walker-accessible shower. U-shaped grab bars on swivels may also be installed for enhanced stability.
Some fine details to consider in an accessible shower layout include installing an anti-scald mixing valve that keeps temperature spikes in check. Maximum temperatures for this style typically top-out at 120 degrees. The layout should also position appropriate space to house hair care and bathing products, as well as towels and washcloths. This type of shower differs from standard bathrooms that place things like towel hooks outside the space. These are typically placed away from the showerhead and floor space that drains water.  
Overhead lights and heat lamps on timers also add value and make showering more relaxing. It's also essential to keep in mind that loose plastic shower curtains tend to create a trip and fall hazard. If your accessible shower requires a divider, plexiglass doors and panels offer a safe solution.
In terms of accessible showers in new construction, these spacious designs are not strictly for aging Americans and people with mobility limitations. Homes that include spacious and beautiful showers and bathrooms increase values and are highly sought after resale properties.