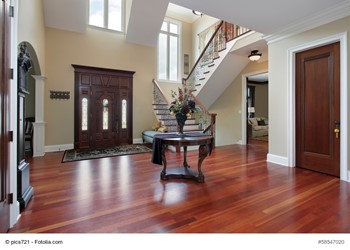 An entryway is the first room you enter when coming home and the first to welcome guests. Many couples have a grand entryway at the top of their wishlist when buying a new home. Make yours count with upscale upgrades that won't break the bank. Here are my tips for creating a high-end entryway no matter the size of your budget:
Paint vent covers a new color and/or finish. This is a great subtle way to add a touch of luxury to your entryway. You can find spray paint in every tone and finish possible to match the rest of the hardware in your hall. Be sure to allow it to dry well before putting them back in place. Alternatively, you can swap out a plain grill for one with more decorative detail.
Add decorative brackets tucked against the tread on the side of your stairs for a unique handcrafted millwork detail. Paint and or stain them to match the original woodwork. This will give your home a touch of upscale elegance visitors will fawn over. If your stairs are painted consider giving them a fresh coat of paint while working on this project for a clean new feel.
Add frames to your light switch plates and paint them to match. Luxury is all about the details, quite literally. This is a quick project with big impact. Consider hunting around antique shops for a vintage option. Don't feel you have to paint them stark white. Try a deep brown or a creme color for your plates.
Create faux baseboards along bare walls with molding. You can even create a wood-paneled look by installing molding along the halfway point of your wall and painting the area down to the baseboards all of the same color. Install molding fitted into rectangular frames along this space for a more detailed look.
Update your entryways light fixture to a piece that is more upscale and elegant. Replace flush mount light fixtures with a chandelier or pendant light that is just as stunning as it is functional. Afterall, good lighting is key to an entryway that wows.    
Add new life to your entryway with a fresh coat of paint. Rich, deep colors and neutrals feel high-end and luxurious. This is a great room to choose two colors for - one for the top half of walls and another for the bottom half. This is another way to create a unique and interesting room without installing paneling.
Bring in a runner or carpet to add a layer of depth and luxury to your entryway. While oriental style carpeting is a classic don't be afraid to choose a pattern you love. Again, neutrals will guarantee a high end feel to the room. With that said rich, warm colors can feel chic and glamorous.